The Dangers of DIY & At-Home Clear Braces – New Jersey
Nu Smile Aligner® Vs.
At-Home & DIY Braces
Perhaps the most dangerous element of at-home braces is that teenagers are using random household objects to "fix" dental issues. Everything from rubber bands and paper clips to earring backs and fishing line are repair methods used in popular videos. What many young people don't realize is that the small pieces, such as those from an earring, can get lodged beneath the gumline. Even the DIY braces "kits" present huge risks because they're often distributed by untrustworthy sources. Keep reading to understand the difference between Nu Smile Aligner and DIY or at-home clear braces kits.
Homemade Braces vs. Professional Orthodontics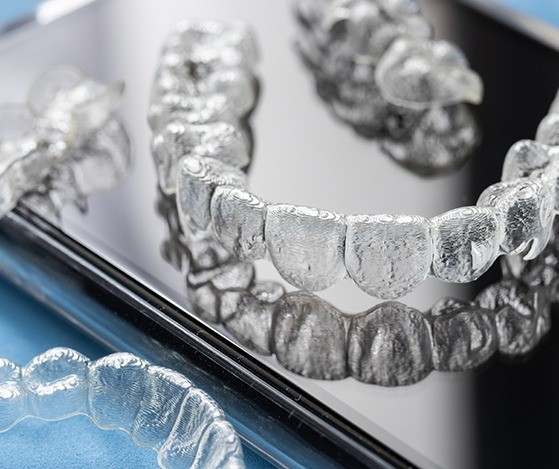 Modern advances in orthodontic treatment mean braces don't have to be the traditional metal brackets and wires of generations past. The overall experience of having braces placed on your teeth features a customized, personalized approach. Dentists are now able to make patients more comfortable, and the procedure is less invasive than in the past. If your dentist has recommended braces for you or your child, ask about these options:
Digital dental impressions: Advancements in the industry have eliminated the need for the pink goo once used for dental impressions. A 3D scan can now give your orthodontist a comprehensive, detailed look at your mouth.
Clear aligners: In most cases, invisible braces like Invisalign treatment can be used to address minor to moderate dental misalignment. Invisalign is also a good option for adults whose teeth need minimal orthodontic correction.
Benefits of Nu Smile Aligner®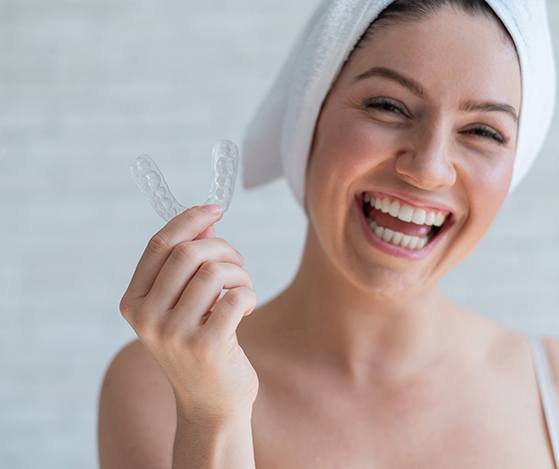 Nu Smile Aligner® is a popular type of invisible braces, similar to Invisalign®. You wear each clear plastic aligner for a set period of time before graduating to the next aligner. Over time, Nu Smile Aligner® treatment works to straighten teeth and close pesky gaps. The aligners can be worn without anyone noticing that you're wearing braces and easily removed so you can eat and drink without restrictions. Compared to traditional braces, Nu Smile Aligner® is easy to clean and allows you to smile confidently.
Do DIY Braces Work?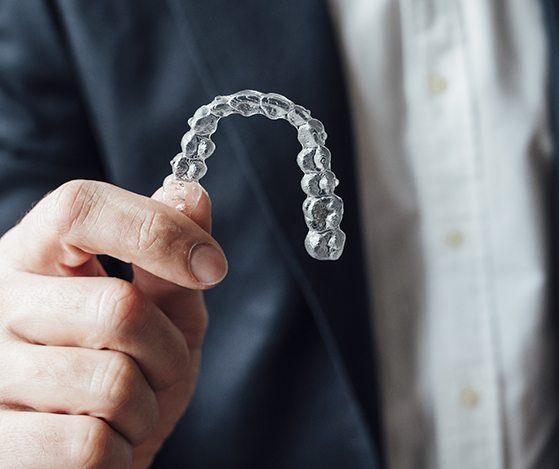 Braces are a professional medical procedure that slowly moves teeth through bone and manipulates bone remodeling. Attempting to straighten your teeth on your own could lead to so much gum damage that you end up losing one or more teeth. Ligaments that hold your teeth in place could begin to break if you use homemade braces. If a tooth is lost, the replacement will cost far more in terms of both money and hassle than professional braces, like Nu Smile Aligner®.
Another dangerous aspect of DIY braces is the damage that they can cause to tooth enamel. The scraping of improperly sized parts can permanently destroy a portion of it. When this protective layer on the outside of your teeth becomes weakened, you may suffer from sensitivity and are more prone to cavities. The gum line is also jeopardized by metal pieces in homemade braces. Small cuts from sharp points can lead to infection, and the bacteria from unsterilized household objects can seep into the open wounds.
Dangers Of DIY Braces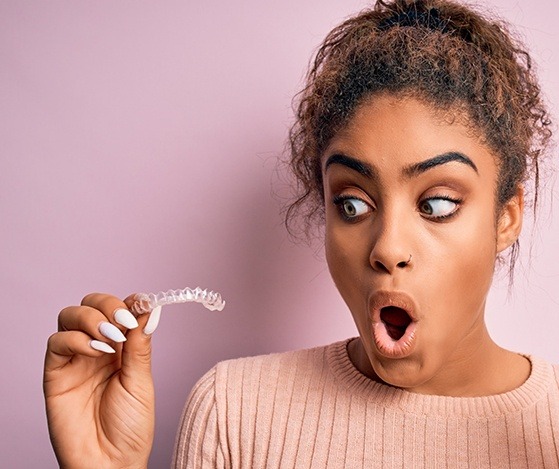 Homemade braces have the potential to cost you your teeth, damage your overall health, and saddle you with a huge dental bill just to repair the damage. Before you order a DIY braces kit from a place such as SmileDirectClub™, Candid, Byte®, or Alignerco, consider this list of bad consequences that could result:
Irreparable damage to the teeth
Painful bone damage, tooth wear, and tooth loss
Damage to the jaw and gums
Infections from bacteria-laden foreign objects in your mouth
New gaps between teeth
Heightened tooth sensitivity
Need for expensive dental treatment to replace lost teeth
How to Pay for Braces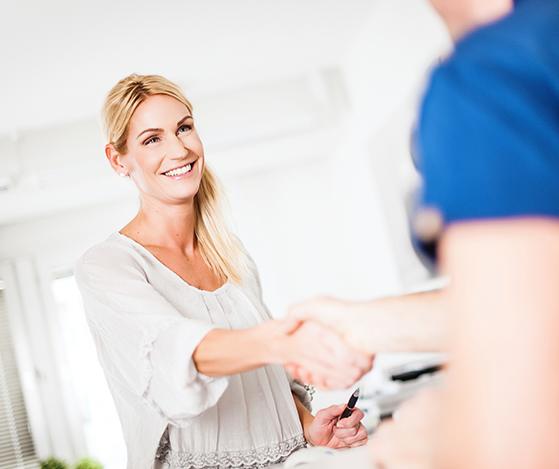 Braces have a reputation for being expensive, which may be one reason why many people are trying to perform dental work at home. The cost of braces is an investment in your oral health, and it shouldn't force you to resort to dangerous DIY teeth-straightening methods. In fact, attempting to make your own braces and damaging your teeth could cost you more in the long run. Our dental offices offer free virtual consultations with digital smile preview, as well as free in-office orthodontic consultations and a low-cost price of $2,500 for complete treatment (or $110/month).
Nu Smile Aligners vs. DIY Braces FAQs
The Nu Smile Aligner system is the clear winner when you compare it to DIY braces options. However, it is understandable if you would like to learn more about the differences between them before you commit to either one. That is why we have put together this brief list of FAQs. If you don't see the information you were hoping for, give us a call. We are ready to help!
What Is the Difference in Cost Between Nu Smile Aligners and DIY Braces?
It might seem logical to think that because Nu Smile clear aligners are so good, they should cost more than DIY options. However, that isn't the case. Dr. G aims to deliver outstanding value at an outstanding price. The Nu Smile system is price comparably with DIY braces. In fact, its price is even lower in most cases!
Where Are Nu Smile Aligners and DIY Braces Made?
Nu Smile Aligners are made in New Jersey — super close to home! DIY braces, on the other hand, are made farther away. For example, Byte is manufactured in China, while Candid aligners come from Texas. Because their factories are so far away, you have to put up with extended shipping time and extra shipping costs.
Are Nu Smile Aligners and DIY Clear Aligners Made Out of the Same Materials?
All clear aligners are made out of a form of plastic, but not all types of plastic are the same in terms of quality and comfort. Dr. G uses only the most comfortable materials that produce predictable tooth movements. In contrast, some DIY clear aligners are made out of cheap plastic that is thicker, less discreet, and all-around less desirable.
Does Nu Smile Aligner Use the Same Technology as DIY Systems?
Some of the technology may be similar, but not all. For example, Dr. G starts the Nu Smile process by taking a highly detailed digital impression of your teeth when you visit us for a consultation. DIY systems usually expect you to take your own impressions with old-fashioned dental putty. Not only is doing so uncomfortable, but it can also lead to inaccurate results.
How Do the Treatment Timelines Compare?
The Nu Smile system is relatively fast because all of the aligners are locally made, and our team is always ready to help you out with questions or concerns. DIY options may take longer due to the need to ship the aligners. Plus, if something goes wrong with your DIY treatment (if your teeth get moved into the wrong positions), it might take months to correct the problem.
Nu Smile Aligners vs. Candid FAQs
The above information makes it clear that the Nu Smile system is superior to Candid in virtually every way. However, it is understandable if you would like to have some questions answered before you commit to anything. That is why we have put together the following brief list of FAQs, along with their answers. If you do not see the information you were hoping for, please call us directly. We look forward to talking with you!
What Is the Difference in Cost between Nu Smile Aligners and Candid?
Candid costs about $1,900 for complete treatment, while the Nu Smile system is just $2,500. Therefore, on price alone, Nu Smile beats out candid. However, the value of our system is also vastly superior. Candid comes with little to no professional support, and it uses old-fashioned dental molds. The Nu Smile system uses high-tech digital impressions, and you can enjoy the peace of mind that can come only from working one-on-one with a qualified dentist throughout your treatment.
Where Are Nu Smile Aligners and Candid Made?
Our Nu Smile Aligners are made right here in New Jersey. Candid aligners, on the other hand, come all the way from Texas. Our local manufacturing ensures that you can get your clear aligners as soon as possible without worrying about the uncertainties that come with getting your aligners shipped halfway across the country.
How Long Does Each Treatment Take?
As with any clear braces system, treatment time varies from patient to patient for both Nu Smile and Candid. You might be wearing your aligners for as little as a few months, but it is also possible that your treatment could last for a year or longer. However, keep in mind that the relatively low-tech Candid process make it more likely that your aligners will not be optimally effective, which can slow down your treatment time.
Do Candid and Nu Smile Aligners Use the Same Materials?
No. Nu Smile Aligners are made out of a high-tech, biocompatible plastic that Dr. G selected for its comfort, aesthetic qualities, and efficiency. Candid aligners are also made out of plastic, but they tend to be of lower quality.
Do Nu Smile Aligners and Candid Use the Same Technology?
No. As mentioned above, Candid expects patients to take their own dental impressions. Without professional training, it can be difficult to ensure the impressions are accurate. Even a slight mistake could have an effect on whether your aligners work like they are supposed to. Nu Smile Aligners, on the other hand, use precise digital impressions that our team takes during your consultation. They are also 3D-printed with state-of-the-art technology to ensure the most precise, most comfortable fit possible.